Spooks and Sparks in the park
Saturday, 27th October 2018 16:00 – 21:00
The organisers of Spooks & Sparks in The Park are pleased to announce the return of this popular event on Saturday 27th October 2018 at Catton Park, Norwich.
This year Spooks & Sparks in The Park will be even bigger and better than the event in 2017 with lots more entertainment, two firework displays and more choices for food. As a fundraising event some local organisations will be considered along with Catton Park, helping towards the upkeep of this superb resource which people of all ages can enjoy all year round.
L Gray & Sons will set up a full funfair suitable for all ages opening from 4pm until 9pm on Saturday 27th October, plans are for the operators to get into the 'spirit' of the event with appropriate costumes and outfits, though they will not be alone as performers from a spooky circus crew called the Unhinged Circus will be joining the fun whilst surprising everyone with flame juggling and slightly scary stilt walkers who may step into the crowds too!
The food & drink court is much bigger this year with some great new caterers including The Station Smokehouse with their unique design train cooking unit, Nice & Toastie with hot toasted sandwiches, The Soup Dog with Oriental inspired soups & Asian influenced food, Vette's Veggie Van with vegetarian food, The Wonky Donkey mobile bar with a wide range of alcohol and soft drinks, Hempland Coffee with quality hot drinks, and a welcome return of Rossi's hot doughnut stall amongst other savoury and sweet food choices who supported the event last year.
Some feedback from last year suggested we could have an earlier firework display, after consideration the organisers have created a bigger budget for two displays, one smaller show for younger children around 6.30pm and a grand finale around 8.30pm. Norwich Fireworks will also be including some new spooky themed special effects in the later show.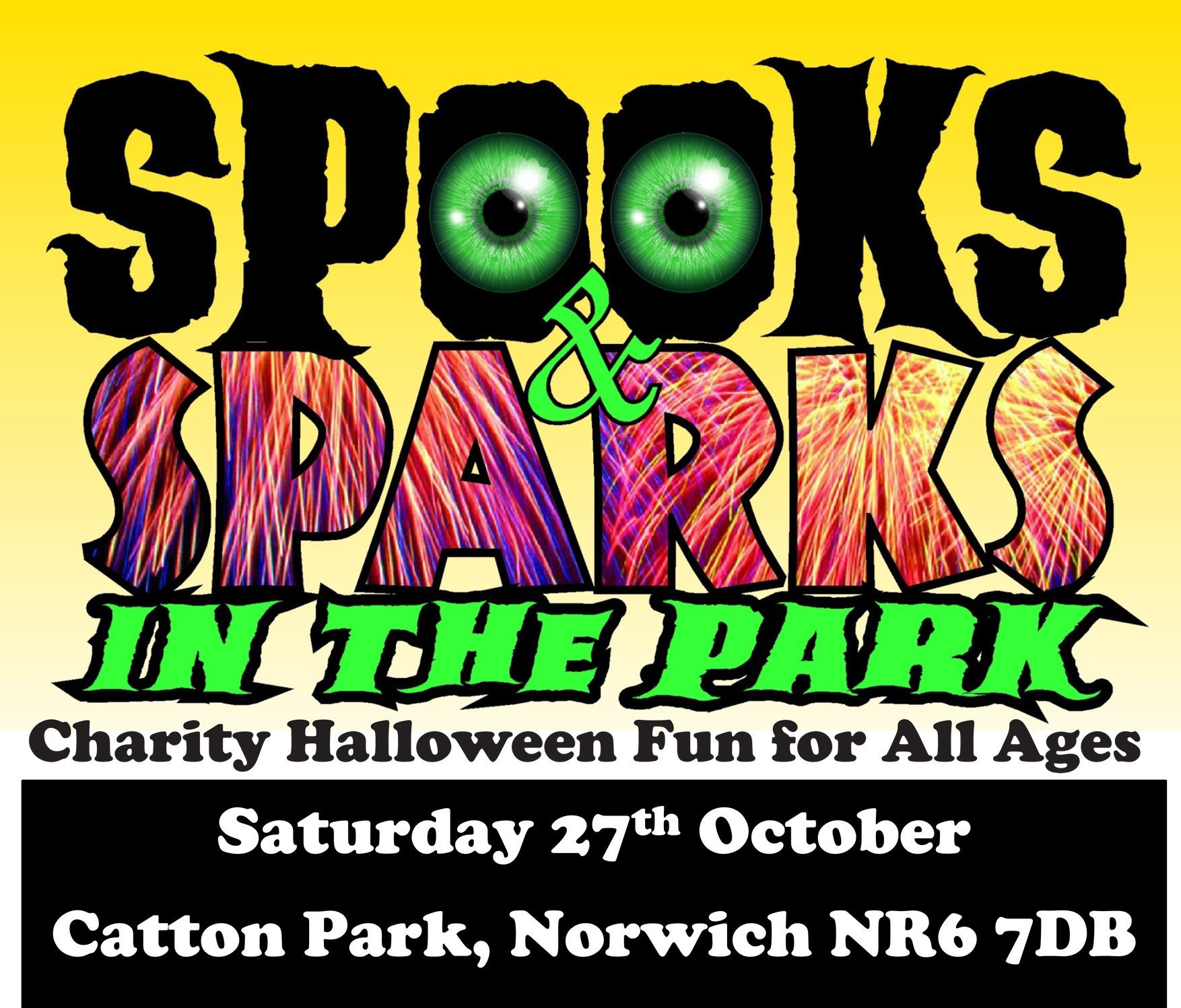 There will be a FREE to enter fancy dress competition with two great prizes per age category (six prizes in total) for three different age categories, boys & girls up to 10 yrs, boys & girls 11 to 17 yrs and 18 yrs upwards men and women.
For 2018 another new part of this unique event will include a pumpkin carving competition which will be FREE to enter. Schoolchildren (with the help of parents) and adults can bring their spooky creations along on the evening, judges will award a major prize for each category (please bring your own pumpkin already carved; knives should not be brought to Catton Park as carving will not be permitted at the event).
The Rotary Club of Norwich along with the Air Cadets make a welcome return as voluntary help, raising funds for Thrive and the Nancy Oldfield Trust amongst others.  In addition the 44th Norwich 1st Old Catton Scout Group are helping at Spooks & Sparks in The Park this year, and the event organisers have nominated Norfolk Zipper Club as a further beneficiary to recognise the support they give Royal Papworth hospital and its patients locally.
Admission will be £5 for all ages with under 5's being free; gates open at 4pm with performances from on a new stage area from 5pm, the fireworks will take place as stated above (weather permitting).
There is no parking on site and Oak Lane will be restricted to residents only, some spaces are available on the area off Church Lane however we recommend using the bus where possible.
Social media feeds include a Facebook page and event entitled 'Spooks & Sparks in The Park' to get the latest developments.